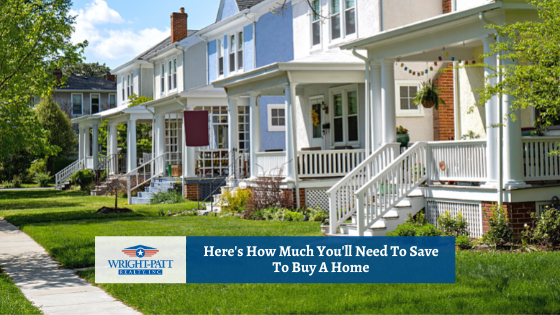 Buying a first home is a momentous occasion. But as you're probably aware, the buying process is not just about trawling through the real estate listings and scheduling tours of homes. Before you ever set foot in a home you might like to buy, you need to think about financing. That's right: It's the unglamorous but essential part of buying a home. In simple terms, how are you going to pay for it?
Far too many prospective home buyers march forth in Lalaland, convincing themselves that they'll slap down a minimal down payment and figure out the financials later down the line. Those who take this tack can be in for some unpleasant surprises. We strongly suggest you square away how you will pay for that house you love among Beavercreek homes for sale before you even start shopping.
Here's some valuable information on down payments, and more, compiled by our REALTORS®.
Saving up a down payment.
The general rule of thumb is to save up at least 25 percent of the sale price for the down payment, as well as closing costs and moving fees. That means if you're buying a home worth $350,000, you might need as much as $90,000 to cover the down payment and the other expenses.

Sad to say, most people find this amount hard to come by. Most prospective buyers these days can only come up with 12 percent of their home price for a down payment, whereas 30 years ago, 20 percent of the home price was customary. Modern consumers have much more debt — car loans, credit cards, and student loans — which makes it harder to save for a down payment. Before you take any other steps toward buying a house, get out of debt.


Figure out how much house you can afford.
It's fun to dream you're a Kardashian when you're house shopping, but the reality is you should never buy a house that is going to cost you more than a quarter of your take-home income. That should include the principal and interest, property taxes, and homeowner's insurance. It might also include private mortgage insurance and homeowners association fees.
There are lots of mortgage calculators online, so just choose one, and it can help you make your calculations as to how much you can afford.


Aim for a 15-year fixed-rate mortgage.
A 15-year fixed-rate conventional loan will save you thousands of dollars in interest fees. It's the overall lowest cost mortgage.


How much should you save for a down payment?
While 20 percent of the house's cost is recommended for a down payment, it's up to you how much you should save. However, try to reach your goal within two years. Don't put your savings in a long-term investment fund. Try putting it away in a money market savings account. Interest won't be huge, but you won't lose anything either.


Trim your budget to the minimum.
You can always find things to trim out of your monthly budget: cut the cable or Internet subscriptions; take a pause on buying clothing; eat at home as often as is feasible; skip the gym for a few months of the year; be scrupulous about buying generic; take advantage of sales at the supermarket, pharmacy, or any place you buy essentials. Take those savings and put the money in your down payment fund.


Find a second income.
Got some spare time? Find an extra income, such as driving for Lyft or Uber, dog walking, or selling stuff on Poshmark or Facebook Marketplace.
Remember: Saving for a down payment is doable. Questions? Contact Wright-Patt Realty.